Perhaps you're curious about introducing another partner into your dynamic, but you honestly have no idea where to start. Hopefully, you and your partner have a warm, comfortable, and supportive relationship where you can share your wants and desires openly and honestly with one another.
Reassuring your partner that you're not trying to replace them can oftentimes be important when bringing up ideas surrounding introducing another person into your sexual dynamic, and you should really ask yourself the following question regarding adding another person into your sexytimes:
Am I looking to add another person into my relationship dynamic, or do I want to try having another person join my partner and I for noncommittal funtimes?
If you're looking to change the primary dynamic of your relationship from that of a couple to that of a triad, this article isn't for you. You'd want to google "polyamory" or "poly triad" or something along those lines.
If, however, you're part of a couple and want to have an encounter with a third person that's purely sexual, then this is the article for you!
Bringing a third person into your bedroom can truly be an adventure that brings the two of you closer together as a couple if done correctly, or spell disaster if done incorrectly. As a professional escort and companion, as well as a sexual adventurer in my private life, I've seen this go both ways, and I'll be honest: hiring a companion is the best way to ensure bringing in a third person goes as best as it possibly can.
Here's why hiring an escort who sees couples beats the pants off of trying to find a unicorn on OK Cupid or Tinder:
Finding a unicorn in the wild is often very difficult and time-consuming.
Let's face it. If you're a couple trying to add a third, you're more than likely a man/woman couple looking to add another woman. Anecdotally, I've never had a same-sex couple approach me personally or professionally and personally? I don't want to be a random sexual experiment for a couple trying to spice up their relationship. Don't get me wrong; there are some women out there that are very into having sex with and dating couples. Most single women on dating apps aren't looking to hook up with couples expressly, and those of us who would even be open to it are sick of being approached by couples that are often vulgar and downright rude. If you're not a rude, pushy couple and you're genuinely looking to find someone to have a great time with, the cards are already stacked against you because single bisexual/queer women are pretty over being unicorn-hunted. The ones that aren't there yet are elusive and will probably end up evading you.
Hiring a professional escort who's into seeing couples literally sidesteps all the wasted evenings you'd both spend swiping right and sending messages only to have your messaged ignored and deleted.
The  power dynamic differential between a single person and a couple is wildly unbalanced and it's honestly not fair to the single person.
This is straight from the personal history books, folks. Having sex with couples, unpaid, is akin to being made to feel like a fuck machine/masturbation sleeve and whew! It can be seriously off-putting. Couples, there is NOTHING WRONG with wanting to prioritize your pleasure and experience as a couple. What's not ok is using another person with no regards to their wants and needs in order to do so.
When you hire an escort who sees couples and specializes in couple's dynamics, you're hiring someone who understands that you're trying to increase the bond and intimacy that the two of you share as a couple. I personally see myself as an augment; a special, magical person you include in your relationship when you want to feel things differently, have different experiences, and see your partner experience pleasure in a new and different way. Once the experience is over,  I as the augment go away, leaving you the couple better than I found you.
Oftentimes, adding a third party to your bedroom dynamic can end up being messy for lots of reasons you've never considered.
I've heard stories galore about couples adding a third to their bedroom fun only to have that third person decide they want more out of the relationship than the couple is willing to give.  This can and does happen when the chemistry is great between all three people, or happens to be more intense between the third and one member of the couple. If all parties aren't careful in navigating their feelings, this scenario can turn into a war zone that's littered with hurt feelings.
It's my professional duty as an escort and companion to only be around when I'm specifically called for, and any professional escort worth their salt feels the same way. We treasure our time with our clients, but when our time is done, we return to our lives just as you return to yours. We value your private life as a couple just as much as we value our own. You won't have to worry about someone trying to get in on your action unless you specifically ask them to!
So, you've weighed the pros and cons and ultimately decided that I'm right and hiring an escort for a threesome is probably going to be a whole lot faster and a whole lot more fun than finding someone off a dating site. Are you wondering how you go about finding an escort who sees couples? Here you go!
How To Find and Hire an Escort Who Sees Couples
There are several ways to get started! Oftentimes it can be really overwhelming to find an escort period, let alone one who sees couples. So here's a breakdown of where to look and how!
Major Advertising Platforms Breakdown:
There are 4 major, national escort directory sites, where you can "shop" for the escort of your choice. These are also referred to as "escort malls." Tryst.link, Slixa, Eros, and AdultSearch are the main national escort malls where you're most likely to find reputable providers. Dickie Virgin specializes in professional Dommes/Mistresses and fetish-oriented escorts so if you're interested in kink, BDSM, or fetish play, looking here is also a good idea. How to navigate Dickie Virgin isn't discussed in this article, though.
There are lots of other more locale-based escort mall sites, but these are the four I'll be discussing in this article.
Tryst.link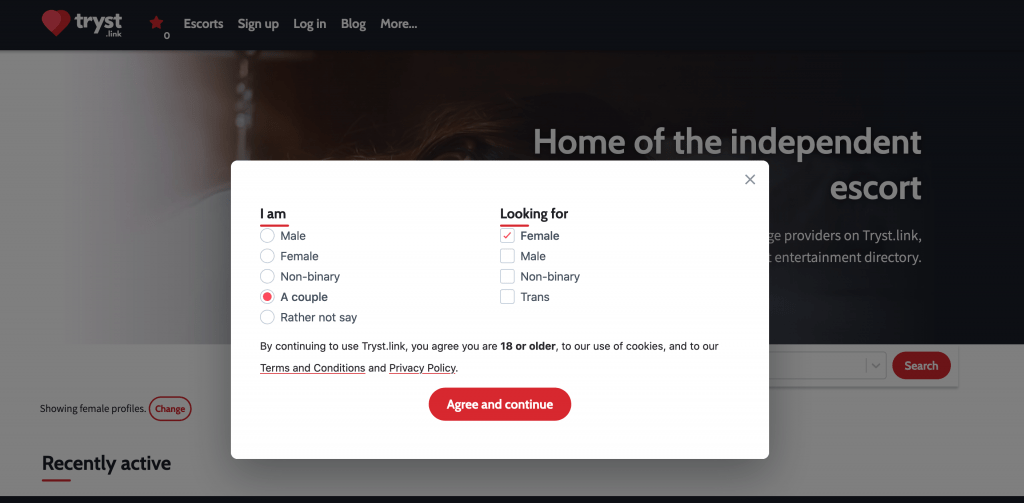 ignore this screen. I don't find it to be accurate at all.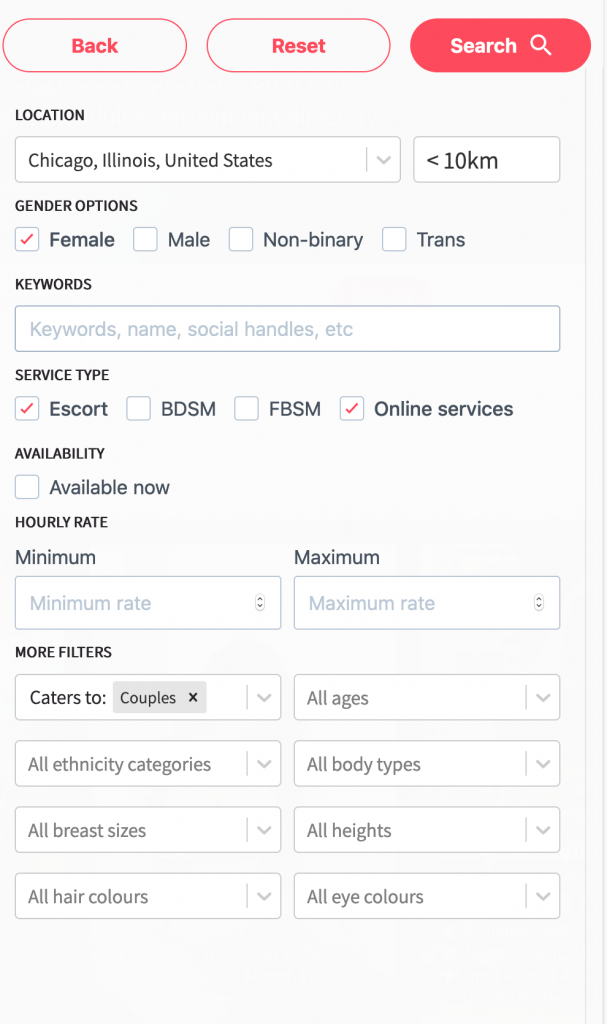 2. this is much more accurate as far as search parameters. You can enter your zip code, provider preference, and you can make sure they cater to couples!
Questions about finding and booking an escort for couples? Here's the TL;DR.
Where do I look for an escort with couples?
Most of the time googling "escort in (your city) will get you a bunch of escort ad mall results. Sites like Tryst.link, Slixa, and Eros are sites that escorts commonly use for advertising, and you can browse to your hearts content there.
If you're a more savvy google user, you can narrow your search parameters and search phrases like "bbw escort chicago", kinky escort cleveland", etc. You can try searching "couples escort in (your city)" but I'd guess not a lot will come up unless an escort is very savvy regarding marketing to couples.
How do I know if an escort sees couples?
Most escorts will list this on their ads! There will be a portion on the ad for "who they see", and those who see couples will list it as such. If you found the escort via twitter or other means that doesn't list a preference, check out that escort's website, and look at her rates page and FAQ page. If she sees couples, she'll probably note it on one or both of these pages.
Do both people in the couple need screening?
Generally speaking, yes. A lot of escorts also want to speak with or email the woman in the couple to make sure both parties are on the same page regarding the booking. Consent is very important, and most escorts aren't into "surprising" anyone with their presence.
How much is this going to run money-wise?
This truly varies from escort to escort, but most charge an additional flat fee ranging from $200-300 on top of their normal rate to double their rate. They should have a section on their site that indicates what the couple's charge is.